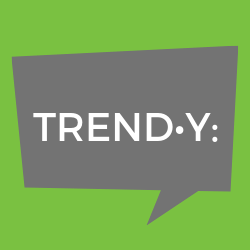 Trend•y:
            "Very fashionable or up-to-date in style or influence."
In the small business world, reputation is everything. And there's no better way to confirm your clout status than letting the world know just how stylish you are. From viral memes to internet fads, here are the three most effective methods to creating a trendy *AF* business:
Stay Current
Beyoncé's secret album. The launch of Vine 2.0. Donald Trump said WHAT? The latest Bachelorette scandal. Texting your number neighbor. Kylie Jenner's skincare line.
If you want to be trendy, you've got to be current. This means keeping up with more than just the Kardashians. Customers want to see that your business is active and entuned with the rest of the world. Don't hesitate to jump on social and join the conversation. Staying current not only attracts buyers, but it also builds lasting B2C relationships!
Read More
#Hashtag #Everything75% of social media users use hashtags, and you should too.
When it comes to social media marketing, these useful little links give your audience an easy way to find your account, blog posts and so much more. Add style and brand to your content with hashtags that emphasize and impress. You can also track your hashtag analytics and other trending hashtags to stay on top of your game!
Expand Your NetworkThe small business industry is all about who you know and who you're trying to get to know. It really is that simple.
Start building a buzzworthy reputation through an impressive network of contacts. Whether it's partnering with other small businesses or featuring popular influencers in your content, the more people you establish connections with, the better. Having a strong network of people is trendy business.
Dazium knows trends. But more importantly, we know how to turn trends into business growth and profit. Looking for expert advice? Contact us for a #trendy consultation!