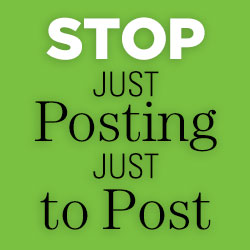 Fact: 63% of consumers who search for businesses online are more likely to become consumers of brands with a social media presence. Social media is one of the most effective marketing tactics, but only when it's done right.
Here are the top mistakes to avoid if you want to succeed on the social meeds!
1: Posting Just to Post
Social media is meant to be an ongoing and engaging conversation. Put simply, if you don't have anything important to say – don't say it! This content often comes off as unauthentic. Be intentional with your postings, and market your business on your own terms.
Tip: Content calendars are great for strategic post planning!
Read More
2: Lack of Brand Consistency
Tone. Language. Color. Fonts. They all work together to give your social media a uniform and professional appearance. If you want to build and sustain a powerful brand, consistency is key. For maximum effectiveness, every piece of content you create should embody your unique brand essence and style.
Tip: Always establish clear brand guidelines before posting!
3: Treating All Platforms the Same
Twitter, Instagram, Facebook, LinkedIn… the list goes on. The best way to take advantage of social media is by using each platform for its individual purpose. Twitter is great for engaging customers in conversations, while Instagram is ideal for showing off new products and services. Use your platforms wisely.
Tip: Monthly reports can help determine which platforms are performing best!
Social media marketing done right can win you customers for life. Done wrong, it can cost you dearly. Contact Dazium today for expert social media marketing services.