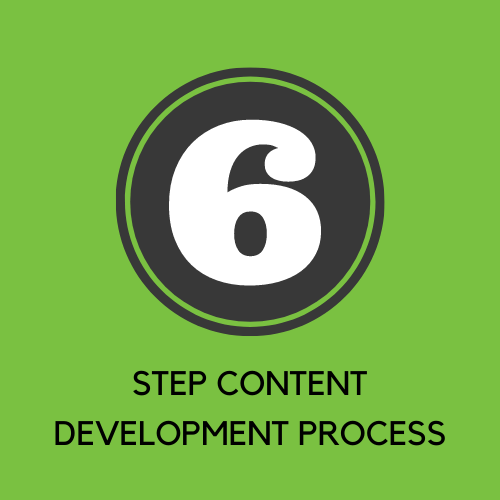 Regardless of your industry, it's safe to say that we're all relying on content more than ever before. Now's the time to revisit and revamp your content development strategy, and we're here to share with you our process of success.
Step 1: RESEARCH
Before jumping in head-first, put your researcher hat on and start asking the important questions. Who will be reading your content? What problem are you solving for them? What makes you unique? What are your competitors doing? What forms of content resonate with your target audience the most? These are just a few of the most important questions you need to answer before producing even one single piece of content.
Read More
Step 2: TOPIC DEVELOPMENT
Now that you have some basic rules defined, it's time to move on to topic development. This step is where your creativity really gets to shine. Start brainstorming topics and imagining how those topics will take form. Be sure to collaborate with others and share ideas during this step of the process. Remember: keep your topics relevant and valuable to your reader. Be unique and offer something that no one else has before.
Step 3: CONTENT WRITING
The topics are developed, and now it's time to write, write, write! Pick a topic, pick a content form, and jump in. The possibilities are endless – blog posts, e-newsletters, social media posts, website landing pages, whitepapers… the list goes on. Put yourself in the reader's shoes and write what they would want to read. High-quality, strategic and purpose-driven writing has the power to be shared with millions. Be the master of your craft!
Step 4: CONTENT DESIGNING 
No piece of content is complete without a little design. Whether you use images, videos, infographics, styling or layouts to spruce up your content, this is a can't-miss step in the content development process. Why? Because first impressions are everything. If your content isn't immediately appealing to the reader, they're going to click away and miss out on your master writing. Keep your content clean, easy-to-consume and high-quality. Then, you can launch it with confidence!
Step 5: PUBLISHING
Your content development plan should go beyond the types of content you create – it should also cover how you manage this content as well. Now's the time to put your work into the universe and set it free. The simplest way to do this is with a content calendar and management system. There are an unlimited amount of tools out there, you just have to find the one that works for you. Press "publish" and your content is officially live!
Step 6: MONITORING
Once your content is out there, the fun part begins. How are people responding? Is the content getting as much attention as you hoped? Is there anything different you could have done to make it better? These are just a few questions that can be answered when you actively monitor and track your live content. If you don't incorporate this step into the process, you're missing out on a whole lot of feedback that is essential to the future success of your content. And just like that, it's time to start creating new content again!
That's it. Seriously. All it takes is 6 steps and a dose of passion and consistency to make a strategic and effective content development plan for your business.
Not sure how to get started? Or feeling overwhelmed with the possibilities and responsibilities? Don't sweat it – at Dazium, it's what we do. Reach out today and we'll help you launch a content development plan that impresses the world.