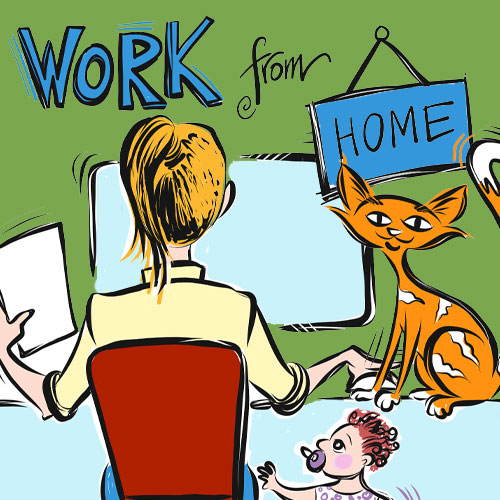 In the midst of the new coronavirus pandemic, companies are packing up their workers and shipping them off to start working from home. This sounds like a sweet gig, right? Lounging around in your pajamas all day and having Netflix play in the background 24/7… It seems great, but being successful in this whole new world might be more challenging than you think. Here are 5 things you need to know when being new to working from home:
#1: Set Up an Office Space
Unfortunately, working from the comfort of your cozy bed isn't going to bring you much productivity. Having a dedicated space is a key (and often overlooked) aspect of working from home. Ditch the bed or couch, and find a spot that is designated ONLY for working. Having this professional zone will instinctually help slip you into work mode every time you sit down!
Read More
#2: Use Technology to Stay Connected
There's no such thing as too much communication, especially in uncertain times like these. Break out of your isolation bubble with helpful tools like Zoom and Microsoft Teams. With these face-to-face video conferencing features and in real-time chatting capabilities, it'll be just like you're back in the office. Remember, the more you communicate the more success you will find working from home!
#3: Stay Organized with To-Do Lists and Planners
It's easy to get distracted at home. To avoid this, kick off every day with a to-do list that outlines and prioritizes your daily tasks. As you make progress throughout the day, check off your list one by one. For future preparation, grab a planner and schedule important due dates in advance. Staying organized and free of distractions is an absolute necessity when adapting to a new home workflow!
#4: Set Reasonable Expectations
Mixing your personal and professional life is unavoidable when working from home. But setting boundaries and expectations will help draw a line in the sand between the two. Enforce a hard limit at the end of the day when your scheduled work hours are complete. Then you can start distancing yourself from work and avoid working nonstop. This step is crucial for all you workaholics out there!
#5: Stick to Your Normal Routine As Much As Possible
Although there's nothing normal about the current state of our world, we can trick our brains into thinking everything is fine by maintaining our normal routines. So, stop sleeping in and not getting ready in the morning. Eat your typical lunch and take your usual breaks. The closer you stick to your every day routine, the more productive you will be!
Working from home is great… Except when it's not. These tips will help make sure that you're successful, both at getting your work done and at maintaining your mental well-being. Follow @DaziumDesign for more helpful tips as we navigate the world of business during COVID-19.